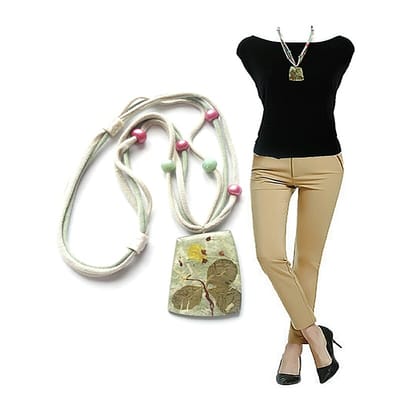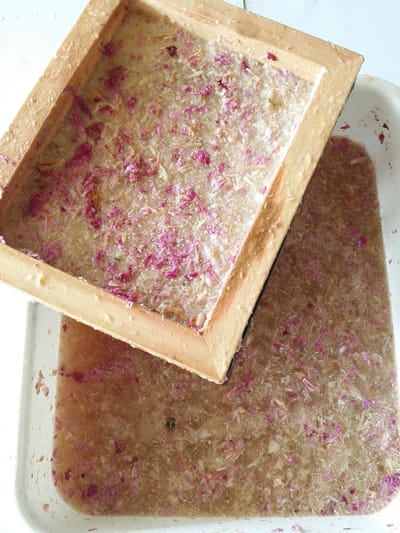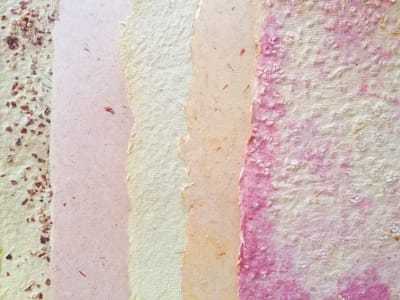 My jewelry designs are inspired by nature and its landscape specific to Alberta, Canada. Using age old techniques in hand paper making, I create my hand made papers from various recycled materials as well as from flora, plants, fruit, vegetable, herbs and spices I have either grown and harvested or sourced locally in Cochrane, AB.

Where possible, environmentally friendly materials are used through up-cycling & re-cycling with the majority of my pendants being strung on up-cycled t-shirts that have been washed, dried by mother nature, hand cut and stretched by me into t-shirt cord.

Pendant backs, beads and jewelry components are individually made by me from modern polymers and are incorporated into the bulk of my designs. Each have been finished with various textures, inclusions and/or surface treatments. The majority of my necklaces have no metal contacting the skin.

From time to time, new materials may include metals such as stainless steel and/or base metals as well as leather, hemp, cotton, silicone and will be listed within each items description.

My hand made papers, pendants and beads form the focal of my designs. All items are locally made in Cochrane, Alberta with some limited production items.